Two power plants in Puerto Rico shut down on March 1, 2018, causing a blackout in the city of San Juan and throughout a large densely populated section of the island. It was an unexpected, although not surprising, event where about 11% of the population still doesn't have electricity nearly 6 months after Hurricane Maria hit the island.
I was there when the recent blackout shut down power to many of the island's inhabitants. As a volunteer working to repair houses (many of which remain damaged or uninhabitable since the hurricane), I saw firsthand how Puerto Ricans shrugged off yet another inconvenience, fired up their gas-powered generators (which have become a necessity due to frequent power outages), and tried to get back to living their daily lives as best as they can.
Indoor mushrooms
I was in the remote, mountainous central region of Barranquitas, far from tourist-friendly Old San Juan or any of the island's beaches. In the center of the island, many families live in homes still in need of major repairs. For some, roofs are partially or completely torn off, with only a skeleton of rafters showing.
Some homes have been abandoned since the hurricane, left shuttered until families can find a way to make them habitable and move back in.
Mold and rot have festered during the island's unusually rainy winter. Going inside one of these houses is like stepping into an indoor swamp, with frogs and lizards living in the water-logged wreckage. Black mold covers walls and ceilings like a low-pile carpet, and mushrooms sprout from darkened corners. Volunteer workers must wear protective coveralls and industrial-grade respirator masks to tear out the walls and pick up debris.
According to the American Academy of Allergy, Asthma & Immunology (AAAAI), mold spores in Puerto Rico have been at high to very high concentrations in the past 5 months.
It's important to note that mold spore concentrations are graded differently in Puerto Rico than in the mainland United States. For the US mainland, a mold spore count of 50,000 per cubic meter (m3) is considered a red alert (ie, "very high" level). But the threshold is more than double that in Puerto Rico, where a red alert begins at 110,000 spores/m3.
That's a lot of mold spores in just one square meter—a space about the size of a large dog crate.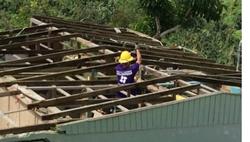 Molds and respiratory illness
Amazingly, the mold spore count in Puerto Rico reached a record-setting 176,978/m3 on November 17, about two months after Hurricane Maria landed.
"Since Maria, we have had an average of over 50,000 spores/m3 during September to November, but also for the first time ever in December, January, February, and March," said Benjamín Bolaños, PhD, who tracks levels of pollen and mold spores in Puerto Rico for the AAAAI.
Unusual amounts of rain during the traditionally dry months of January and February have sent mold counts to red alert levels exceeding 110,000 spores/m3, said Dr. Bolaños, who is also an associate professor, Microbiology Department, University of Puerto Rico, San Juan, PR.
These heavy mold concentrations in the air are likely having a particularly unhealthy effect on Puerto Ricans, where the prevalence of asthma in children was already as high as 40% or more before the hurricane, Dr. Bolaños noted.
"In addition to the high levels of spores observed in the outdoors in the past 5 months, we have also investigated the problem of indoor mold amplification in Puerto Rico after Hurricane Maria," said Dr. Bolaños, who has performed indoor air quality studies that have shown very high levels of Aspergillus species inside buildings that were flooded and have been water-logged for the past months.
"I am sure this problem, indoor mold amplification, is also contributing to affect the respiratory health of the residents of Puerto Rico," he said.
But it's hard to tell whether the mold is definitely leading to more respiratory conditions on the island because the mold species with the highest concentrations—basidiospores and ascospores—are not included on conventional diagnostic panels of allergens.
To complicate the question, current information on asthma-related health claims isn't readily available because power outages and work disruptions have sidetracked data collection.
Regardless, Dr. Bolaños and others are working hard to show that fungi such as basidiospores are important triggers of asthma and allergies in Puerto Rico. Their research may eventually help to prevent and treat respiratory allergic disease.
Unfortunately, respiratory illness from unusual fungi is just one of the many unsolved, long-term effects of the hurricane. Much more work is needed before the residents of Puerto Rico will be fully back on their feet.