Even with 5 years of adjuvant endocrine therapy, the risk of breast cancer recurrence and death persists for at least 20 years after the original diagnosis in women with estrogen receptor-positive (ER-positive) breast cancer, according to a meta-analysis by an international team of investigators published in the New England Journal of Medicine.
Given these results, the researchers suggest that patients and their providers consider continuing endocrine therapy for longer than 5 years.
The meta-analysis was conducted by the Early Breast Cancer Trialists' Collaborative Group (EBCTCG). These researchers analyzed results from 88 clinical trials involving 62,923 women with ER-positive breast cancer who were disease-free after 5 years of scheduled endocrine therapy. The researchers used Kaplan-Meier and Cox regression analyses to find associations between tumor data and patients' outcomes throughout the following 15 years.
Breast-cancer recurrences continued to occur steadily in patients from 5 to 20 years after the original diagnosis, according to the researchers.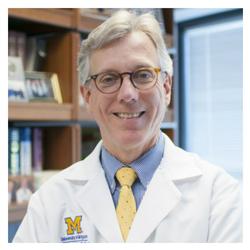 Daniel F. Hayes, MD
(photo: Michigan Medicine)
"Even though these women remained free of recurrence in the first 5 years, the risk of having their cancer recur elsewhere (for example, in the bone, liver, or lung) from years 5 to 20 remained constant," said senior study author Daniel F. Hayes, MD, Stuart B. Padnos Professor of Breast Cancer Research and clinical director of the Breast Oncology Program at the University of Michigan Comprehensive Cancer Center, Ann Arbor, MI.
The risk of a distant recurrence was correlated with the original tumor's grade, diameter, and nodal status. The highest risk of distant recurrence—41%—occurred in women with large, highly node-positive tumors (T2N4-9). But, even women with small, node-negative, low-grade tumors (T1N0) had about a 10% risk of distant recurrence during years 5 to 20.
The researchers found similar results for rates of death from breast cancer.
"It is remarkable that breast cancer can remain dormant for so long and then spread many years later with this risk remaining the same year after year and still strongly related to the size of the original cancer and whether it had spread to the nodes," said the study's lead author Hongchao Pan, PhD, MSc, an epidemiologist at the University of Oxford, Oxford, UK.
Risk may be reduced by extending the duration of endocrine therapy for longer than 5 years, the researchers noted. However, they added, endocrine therapy can cause "bothersome but non-life-threatening side effects," such as menopausal symptoms, arthropathy, and carpal tunnel syndrome.
Still, women with ER-positive breast cancer—even those with low-grade T1N0 disease—should at least think about extending endocrine therapy for more than 5 years, the authors concluded.
"These data can be used by patients and their health-care providers as they consider whether to continue taking anti-estrogen therapy beyond 5 years, weighed against side effects and toxicity of the therapies," Dr. Hayes advised.