In an ongoing clinical trial, researchers at the University of Colorado Cancer Center working at Denver Veterans Administration Hospital, Denver, CO, in association with the National Cancer Institute Division of Chemoprevention, are assessing the efficacy of an inhaled form of iloprost to prevent lung cancer. They hope that by healing previous lung damage in former smokers, dangerous lesions will be prevented from progressing to cancer.
Since the 1990s, researchers at the Denver VA Hospital have been working on chemopreventive clinical trials. Robert Keith, MD, and York Miller, MD, are currently involved in pre-clinical work evaluating the role of prostacyclin in preventing lung cancers.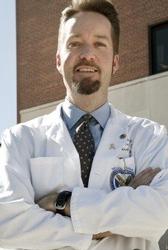 Robert Keith, MD
Credit: University of Colorado Cancer Center
"Most lung cancers have low prostacyclin levels," explained Dr. Miller, professor of medicine, Thomas L. Petty Endowed Chair of Lung Research Co-Leader, Lung, Head & Neck Cancer Program, University of Colorado Division of Pulmonary Sciences & Critical Care Medicine, University of Colorado Cancer Center, Denver, CO. "If you maintain prostacyclin production, you have improved survival. But the stuff the body makes has a short half-life – it doesn't stick around for long – and so it's been challenging to make pharmaceuticals that release into the body in a way that isn't immediately used up."
Drs. Keith and Miller are currently involved in this study of iloprost—which was originally developed to treat pulmonary arterial hypertension and binds to, and activates, prostacyclin receptors—to determine whether it can prevent or slow the cancers associated with prostacyclin loss.
Subjects will include the high-risk VA population, aged 55 and greater, with 20+ pack years of tobacco exposure, and evidence of lung damage.
"Lung cancer is an even bigger problem at the VA. There are high smoking rates in current and former military," said Dr. Keith, professor, University of Colorado Division of Pulmonary Sciences & Critical Care Medicine, VA Medical Center, Denver, CO.
"Where a river branches, logs get stuck. It's the same thing in the lungs. We biopsied the area where the windpipe branches and it's the people who show damage in this area that are especially likely to go on to develop lung cancer," added Dr. Miller.
For the study, subjects are required to complete in-home inhalation treatments using iloprost, as well as undergo monitoring and education about lung health.
"If we can not only start discovering lung cancers earlier but go a step above that and prevent a cancer in someone who is high-risk, that would be outstanding," said trial coordinator Brandi Bagwell.
For more information about this trial, visit Clinical Trials.gov (Number NCT02237183).